SS9 The Commons @ Fertile Ground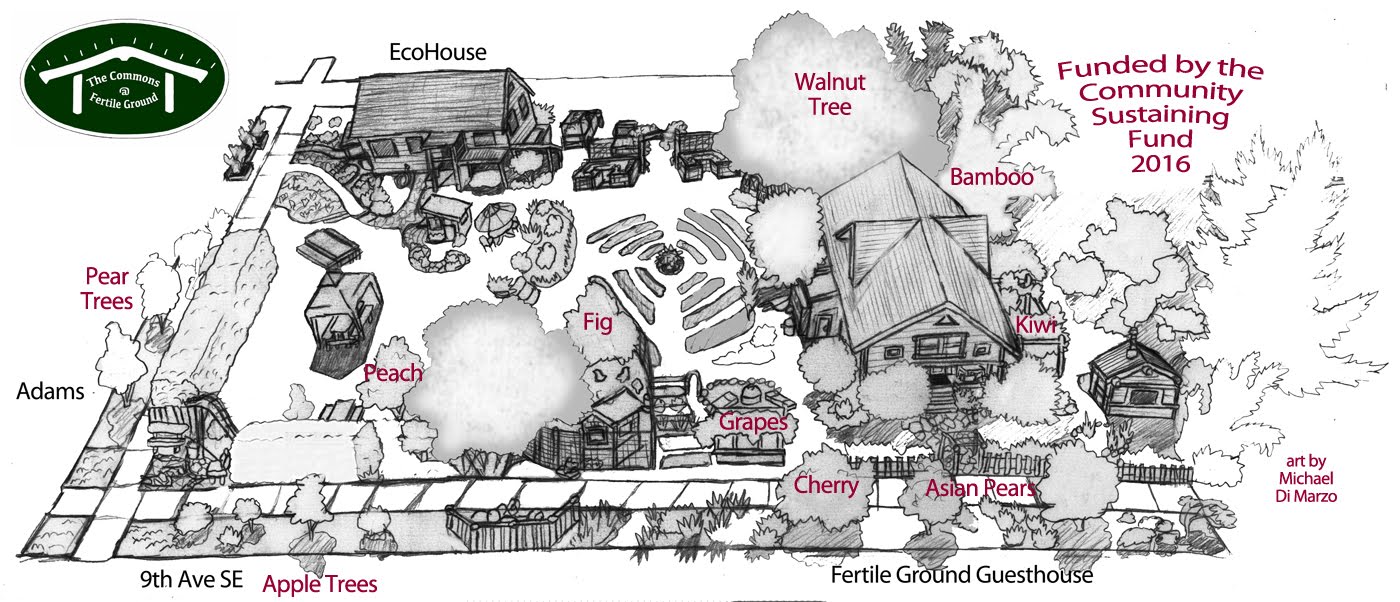 911 Adams St SE
Olympia, WA 98501
OPEN SATURDAY MAY 4TH
11:00 AM – 5:00 PM
Site Description
FEATURES: Indoor Air Quality, Materials Conservation, Stormwater Management, Urban Farming, Water Conservation
This year, the Commons is celebrating 20 years demonstrating sustainability at a neighborhood scale, renewing their collaboration with the NW EcoBuilding Guild whose office is on-site in the EcoHouse. For the next 20 years, they're partnering with the City of Olympia and Evergreen State College to expand our vision and create an EcoDistrict in the heart of downtown Olympia, to apply the principles of sustainability, equitable housing, and climate protection across the neighborhood. At this site you'll:
– Tour the EcoHouse to learn about low-cost DIY green remodeling techniques
– Explore the permaculture garden, food corridor and urban oasis of nature
– Learn about EcoDistrict concept and project ideas from participating Evergreen students
– Celebrate 20 years of Fertile Ground and get involved for 20 more!

Sustainable Features in the EcoHouse:
– Extensive use of reclaimed and on site available materials
– Energy efficient remodel including airsealing, insulation and storm windows
– Natural plasters and milk-based paints
​
At the Commons:
– Food forest corridor with dozens of fruit trees and berries
– Self-sustaining rain garden
– Neighborhood composting center
– Community- teaching garden

One of the core concepts of the EcoDistrict project is equitable housing. The Commons is addressing equitable housing by donating their land to the Thurston Housing Land Trust and creating co-housing with single-room occupancies (SRO).

Evergreen students will be present to highlight the work they have already done on the EcoDistrict project and their ideas for neighborhood scale sustainability.
This location is ADA Accessible.

To learn more about the EcoDistrict concept being pursued by the Commons and its partners, visit http://ecodistrict.fertileground.org