Green Lake Second Story Addition
& Remodel

Open (virtually) Saturday, Sept 12
FREE Tickets for this Site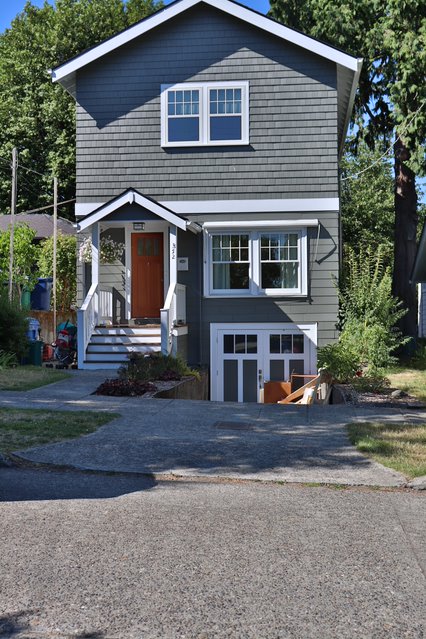 Site Description
FEATURES: Energy Efficiency, Indoor Air Quality, Materials Conservation, Design Innovation



"When you've got a growing family, a neighborhood you love and a competitive real estate market, this remodel was a great way to expand, update and get the space we wanted and needed" – Mike Kocharhook, Homeowner.


Scope:

The primary goal for this 2nd story addition was to create more space for the addition of a new child. The homeowners also wanted to open up the main floor and make the space more functional while retaining the classic character of the home.

Clients wanted to save money on energy bills and were interested in low maintenance, preserving and refinishing throughout the project, low/no VOC materials. Green practices were a high priority for this project.

Challenges:

One of the challenges was how to work on an existing structure and sheer walls for earthquakes.

An energy-efficient, well-within-budget heating solution for both levels of the home was also needed.


Solutions and Results:

The main floor was opened up creating an open concept kitchen and dining room.

Our clients selected marmoleum flooring for their bathroom floors, not only for the aesthetic but also because they wanted something that felt good on the feet. Wooden floors throughout, with prefinished oak on the main floor and cork flooring for the 2nd story.

Clients also opted for a smaller, European refrigerator that is a taller, skinnier model that fits, works and looks better in the space.

Kitchen cabinets have been reused, also keeping travel and shipping to a minimum.

The shower and white subway tiles, installed by Decker Design, Inc., gave more visual height, and lightness to the bath overall. We used a no maintenance grout that doesn't require harsh chemicals or sealants in order to maintain.

The clients also installed a ducted mini split heating and cooling and added wool insulation between the floors for energy efficiency.

No VOC paint and nontoxic M1 chemlink, construction adhesive was used throughout the remodel. The clients also chose to use plywood for the exterior walls (for its drying and mold resistance capabilities) as opposed to the commonly used OSB.

They also chose LP SmartSide engineered wood siding which resists damage from impacts better than fiber cement and vinyl siding, and offers superior protection against hail, wind, moisture, fungal decay and termites (all whilst being environmentally friendly).